Web Portfolio
Are you utilizing the Internet to it's full potential? At Yellowstone Systems, we understand the importance of a well-designed and professional looking site. Creating sites since 2006, our team of skilled professional designers is here to help. We can help you establish a web presence or revamp your existing site. We offer assistance from start to finish no matter what your technical or design level. So give us a call today at (406) 245-4325.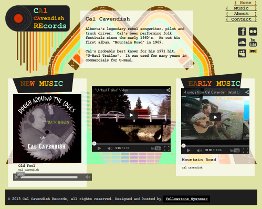 Cal Cavendish has been writing great folk and country music since the late 1950's. This is the first website we've made where the subject has an Internet Movie Database listing for it. Cal is so notorious in Canada, they made a documentary about him trying to make it in the music scene while working blue collar jobs. Cal needed a site that looks like a million bucks, while on a tight budget. We designed a retro site to fit his style of music and his individual personality. This site includes embedded videos and audio as well as a fancy carousel type image gallery for his albums. Check out the Cal Cavendish website for some of the best raw old-school folk and country around. You can even order his CD's on there!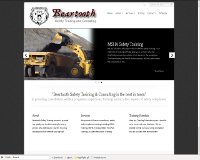 Beartooth Safety was in need of an updated site that was easier to maintain than their previous static site. We created a site which is easy for the novice computer user to edit and update on a regular basis. This cost effective site integrates a fully WYSIWYG (what you see is what you get) editor for the administration of the site. Beartooth Safety can edit the schedules and other parts of the website by logging into an administrative area. This keeps their overall costs low. To Visit Beartooth Safety and Training Click Here!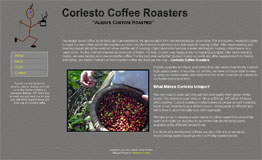 Corrine and Les roast the best coffee beans around. Together they are Corlesto! Their beans are always fresh roasted and they deliver to Billings. Corrine and Les have the ability to edit the site using a WYSIWYG (what you see is what you get) editor. There is no need to know code or upload the files to a separate server. Using their web browser from any computer, they simply login and update their menu with current prices and flavors. For the best coffee beans around try Corlesto Coffee Roasters!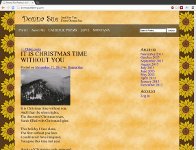 Donna Sue Berry needed a website she could easily alter as she is a passionate writer and poet. Donna's early writing began with romantic poetry during her junior high school years, but it was not until after returning to academia as a student at age 48 that her poetry began to deepen and truly express her deep love for her Catholic faith. She is proud of her rich Oklahoma heritage and her ancestors who made the Oklahoma Land Run of 1889. With that in mind, her current project is writing a book of poetry entitled "Catholic Poems from the Heart of a Red Dirt Oklahoma Girl.". To Visit Donna Sue's Poetry Site Click Here!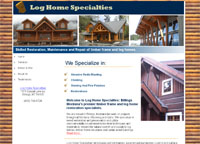 Log Home Specialties specialize in wood restoration and the preservation of wood's natural beauty.They use only the finest wood restoration techniques and materials to restore the natural warmth and beauty to log homes, timber frame structures and cedar-sided buildings. Log Home Specialties' employees are fully trained, experienced journeymen coating and surface preparation specialists.
To Visit Log Home Specialties Click Here!